John Yates-Harold graduated from Middlesex Polytechnic in July 1988 and then spent 28 years teaching in various schools across London.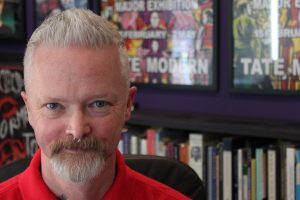 In 2006 he was promoted to Deputy Head Teacher at The Jenny Hammond Primary School. He was among 16 school practitioners from across the country who took part in the "No Outsiders" project. This 28-month project sought to effectively challenge homophobia in primary schools through age-appropriate picture books. Following on from this work, he has now compiled lesson activities for more than 30 books.
John worked closely with Stonewall on their "Different Families" resources and then on their "FREE" DVD which he wrote lesson plans for.
Ofsted recognised John's work at Jenny Hammond as an example of good practice in their report, "Wouldn't It Be Boring If We Were All The Same?".
John was honoured to be included on the inaugural World Pride Power List in 2012 being described as a "progressive educator".
He has delivered training at Stonewall's Education Conferences; NUT/NASUWT Conferences; to PGCE students at the University of East London; and several primary schools in London.
Aside from teaching, John co-founded the London Gay Men's Chorus (now 'Choir') in 1990. He edited and contributed to a book of poetry: "How Can You Write A Poem When You're Dying of AIDS?" (publ. Cassell 1993). He composed a requiem mass, "Undying Heart: A Requiem for AIDS" which was performed at the Free Trade Hall in Manchester in 1993. He has written 2 ½ operas for children including "The Story of the Eldest Princess" as well as countless songs in English, German and Spanish.
John recently escaped to the country and now lives in Heanor, Derbyshire, with his husband and two children. He is looking forward to sharing his experiences in effectively challenging homophobia with schools, universities and other settings.